FRIENDSHIP CLUB
Besøk på Gjøvik 16.-19. mai 2019
Feiring av nasjonaldagen
Gjøvik Rotaryklubb har i fem år hatt en vennskapsklubb i Anyksciai kommune i Litauen, ca 120 km fra hovedstaden Vilnius. Siste weekend var representanter for klubben på besøk i Gjøvik. Høydepunktet under oppholdet var utvilsomt deltakelsen i feiringen av vår nasjonaldag, noe de satte stor pris på. Barnetog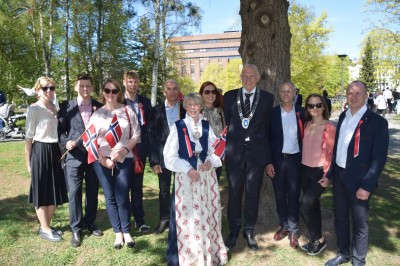 med vaiende flagg, hurrarop og korpsmusikk ble en ny opplevelse for gjestene. Ellers var programmet tettpakket med besøk til museer, utstillinger og severdigheter i byen og distriktet, herunder også besøk i Gjøvik Fjellhall.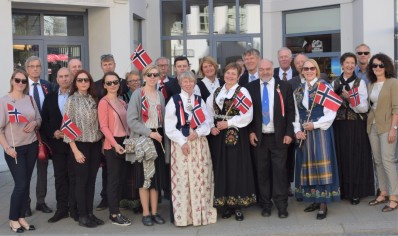 Statusmøte vedr selvmordsforebyggende prosjekt

Gjøvik Rotaryklubb bidrar i et større selvmordsforebyggende prosjekt i Litauen sammen med Anyksciai Rotaryklubb. Litauen har i mange år ligget nærme verdenstoppen i antall selvmord per innbygger, faktisk tre til fire ganger høyere enn Norge. Ildsjeler i Litauens Rotary-organisasjon har tatt initiativ for å gjøre noe med denne situasjonen. Gjøvik Rotaryklubb er engasjert i prosjektet gjennom vennskapsklubben i Anyksciai. Flere andre klubber og Rotary International støtter også prosjektet.
Prosjektet er finansiert med 91.700 USD (ca 800.000 kroner) og vil løpe over 2 år. Foruten finansiering bidrar Gjøvik Rotaryklubb med to representanter i den internasjonale komiteen som styrer prosjektet. En med helsefaglig kompetanse og en med kompetanse innen prosjekt- og økonomistyring.
Prosjektet startet opp høsten 2018 og omfatter de elleve mest utsatte kommunene i Litauen. I forbindelse med besøket fra vennskapsklubben i 17. maihelga, ble status for prosjektet gjennomgått og presentert. Bodil Hagen Sægrov gjennomgikk modellutformingen, opplæringen av medarbeidere i utrykningsetatene og i kommunene, samarbeidet med kommuneadministrasjonene og et antall psykologer for å få modellen til å virke i praksis. Framdrift og erfaringer så langt ble også presentert. Georg B. Jenssen, som også er representant i den internasjonale styringskomiteen, beskrev budsjettstatus som tilfredsstillende i forhold til framdrift. På datalink fra Litauen deltok prosjektleder Dr. Vygintas Grinis med utfyllende opplysninger og svarte på spørsmål.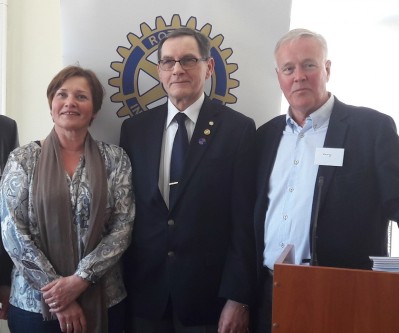 Prosjektet hoved formål er å redusere antall selvmord i de elleve kommunene som deltar. I 2018 var selvmordsraten i Litauen 26,4 per 100.000 innbyggere ifølge helsemyndighetene. Når prosjektet skal evalueres, vil fokus særlig rette seg mot utvikl
ingen av selvmordsraten i kommunene i prosjektperioden og årene deretter. Det er å håpe at prosjektet vi
l gi gode resultater både på kort og lang sikt.
Bodil Hagen Sægrov, Gjøvik Rotaryklubb
Vygintas Grinis, Kaunas Rotaryklubb, Litauen
Georg B. Jenssen, Gjøvik Rotaryklubb
visit to anyksciai APRIL 2018 19-22 april
From Gjøvik Rotary Club 11 guests participated in the visit to Anyksciai. the program for the visit had several highlights.
To celebrate the 100 years anniversary of Lithuania independence in 1918, and plant memorial trees
To meet the project leader an group creating the project of Suicide Prevention and to discuss details of the program we are in the process of getting approved by Rotary Fondation
To visit Ogeina and support her humanitarian project.
To be together with our friends in Anyksciai Rotary Club to strengthen our friendship and build cultural understanding.
So here is the story the story of the visit mostly in pictures.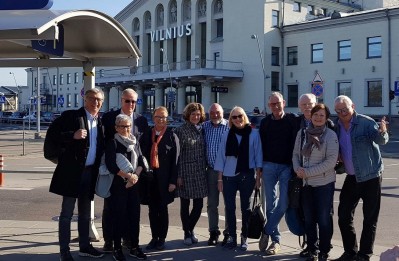 The visiting group where fetched by Regimantas and Raymondes in Vilnius on Friday morning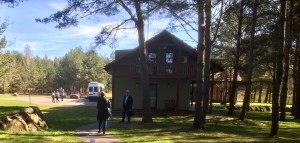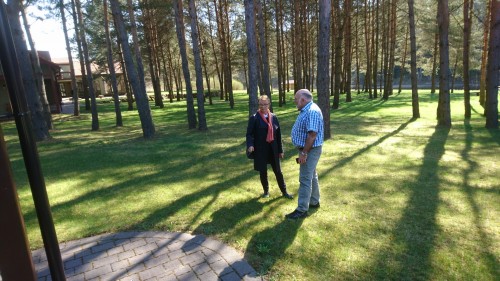 Arriving at the lodge Kankorezis where we stayed during the visit. A wonderful place in the pine woods and near to Sventoji river. Anyksciai Rotary member Ritus and his wife Christina owned the place end where our hosts.



FRUIT GARDEN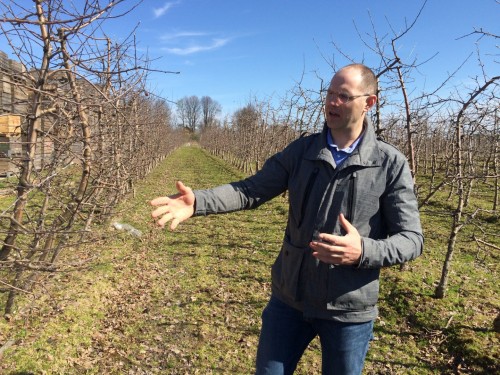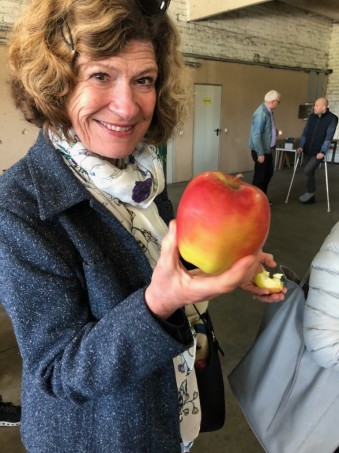 Our first visit was at the fruit garden of Regimantas. Here he explains how to trim apple trees . He has got 20000 of them on 200 acres of land. That keeps him busy cutting apple trees in the spring.
Else Magna with an example of last seasons harvest.
Special storing capacity made it possible to keep the apples fresh for a long time.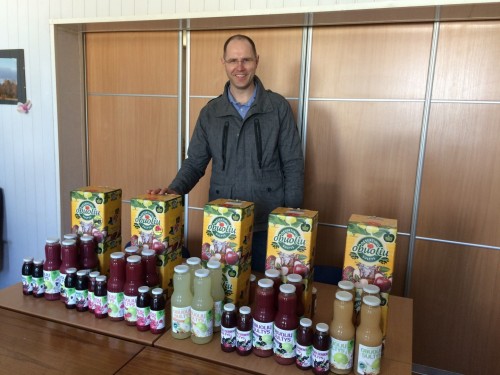 Regimantas business also included juice production and the selection of Juice was broad. For mixing they also produced blackcurrant berries.
We were allowed to test the lot.
OGEINA'S CHILDRENS HOME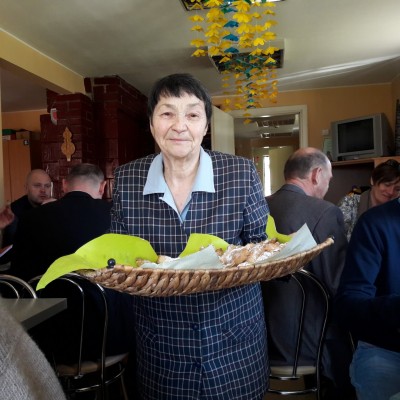 From fruit farming we went to Ogeinas children home where we were greeted by Ogeina herself wit delicious cakes.
We were served lunch together with some of the children . Ogeina told us the story of this childrens home, and the need for this after school "home" for children .
Activities, school work support and food wher key elements.
Alltogether 48 children was linked to this after school home.
Below some of the children with the visiting group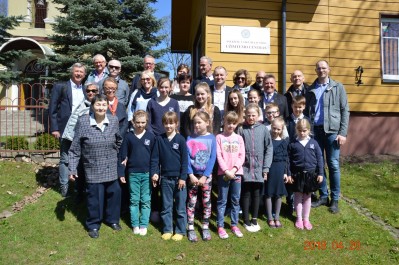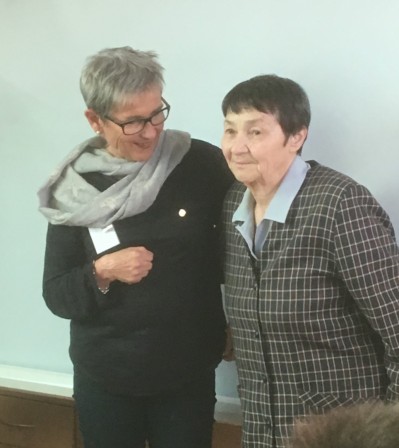 We had brought some small gifts and funding support to Ogeina and her childrens home. Berit praised the work that Ogeina and here team was doing and presented our support.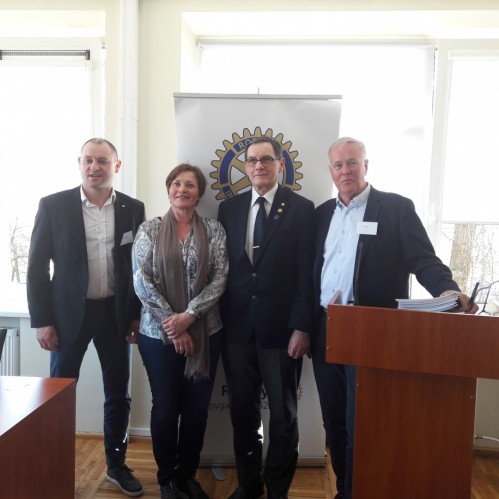 SUICEDE PREVENTION PROJECT
Four members from the committees. Two from the national and two from the international committee where gathered to to be face to face with the discussions to convince the Rotary Fondation that this an important project.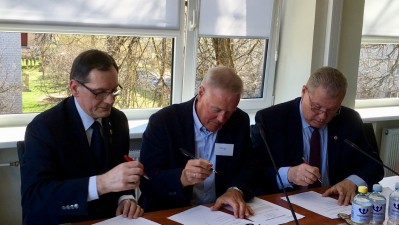 We met with the Mayor of Anyksciai to sign the agreement regarding the possible participation from Anyksciai Community in the project.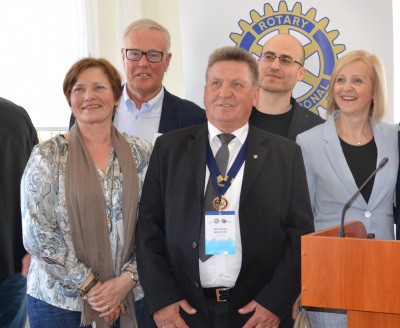 We also met with two of the psychologists ( right side of the picture) which will be part of the professional team in the project

Evening dinner and competitions.
In the evening we gathered for a meal and informal competitions. We were split into teams across nationalities.
Bowling ,dart and table tennis was on the schedule. It did not take long before the internal team spirit was on top,
and the fight for winning was fierce. The winner team got the biggest picture.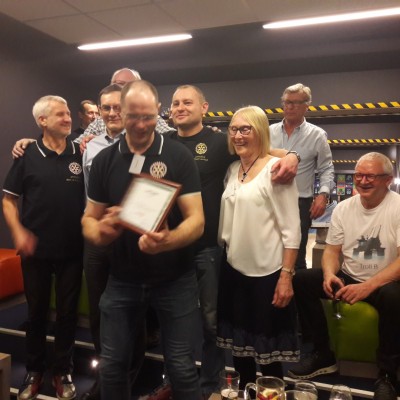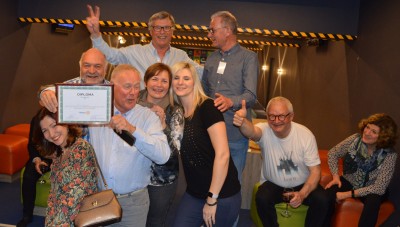 Best individual performer of the evening was a happy man.
An enjoyable evening in the spirit of friendship and brotherhood.


celebrating the 100 years since restitution of lithuania and planting memorial park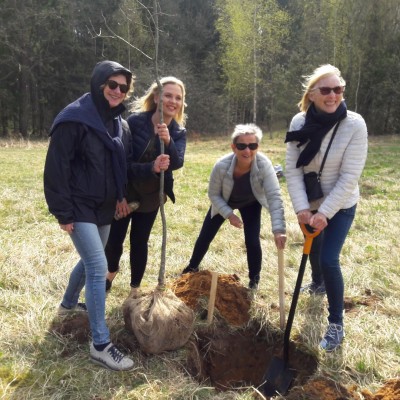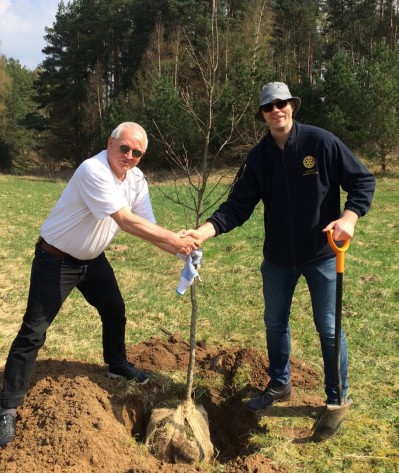 Groups from both clubs planted trees

Altogether a little forest of 18 red oak trees
The two president with the memorial stone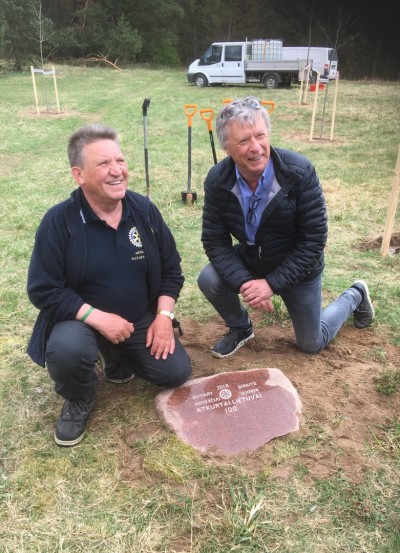 With the inscription
Rotary woods
Anyksciai - Gjovik

Restitution of Lithuania 100 years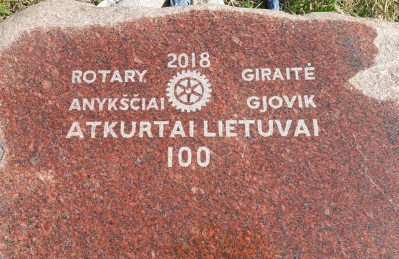 And then the whole group celebrated with the national songs of our two countries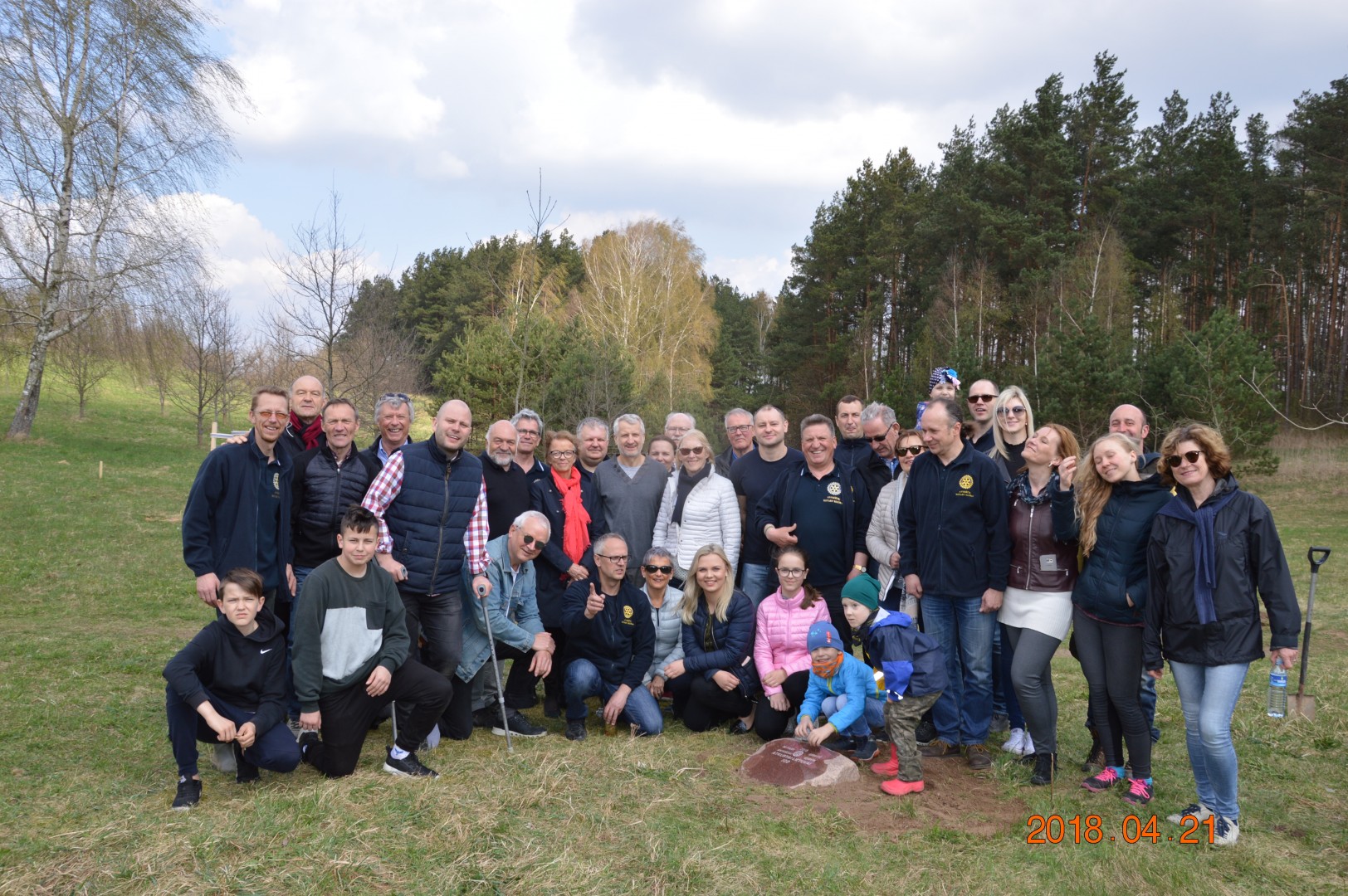 anyksciai old ralway station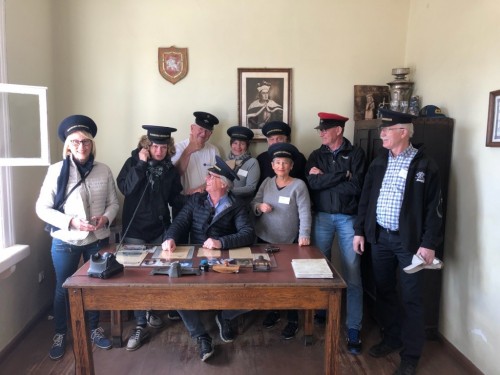 Fun at the old railway station with the group from Gjøvik
The visit turned out to be a dramatic story telling of the start of deportation from Anyksciai Railway station during the Sovjet occupation. Wagons and trains presented on the pictures where used in the deportation.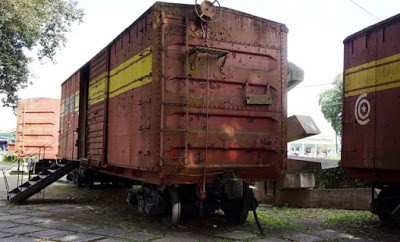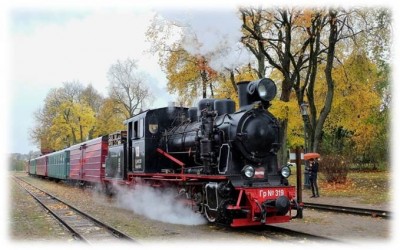 Last night with greetings and discussions
The celebration was held on the farm of Romouldas, an Anyksciai Rotary member. He had rebuild the farm into an adventure park with gocart, horse riding and number of different animals. All aimed at giving children and families an adventure. And last but not least, the barn also had an area for celebrations.


presidents giving gifts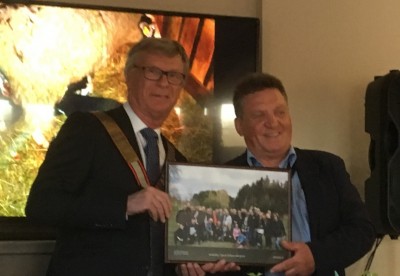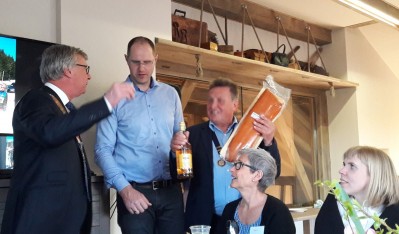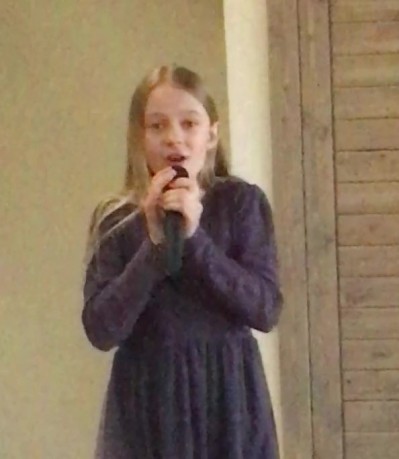 Romouldas granddaugther, age 11 ,entertained us with her fabulous voice signing both national and international songs.
That made the evening complete, and we went home with a good feeling.
The visit had exeeded our expectations
Winter visit from anyksciai 16-19 mars
Thursday our guests where fetched at Gardermoen airport and transported to Gjøvik and the hosts for lodging.
FRIDAY
Friday was the day for downhill skiing in the
Hafjell Olympic skiing resort.The combination of
experience in downhill skiing for our guests varying
from experienced to beginners,fitted perfectly
with the little bit rusty form of the hosts. All of us
ended the day without injuries. In the middle of the day
we had lunch at Ragnar's cabin. Cabin was reached by skiing in and skiing out from the downhill slopes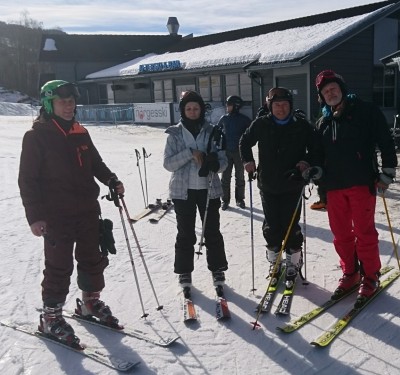 Alvita, Romuoldos,Peter and
Hans Thomas is ready to start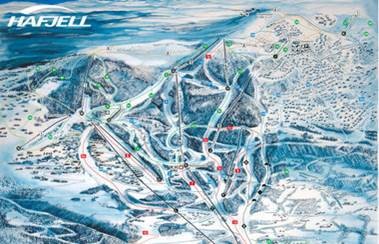 Map of the Hafjell skiing resort
Vaida and Virmantas
looking forward to go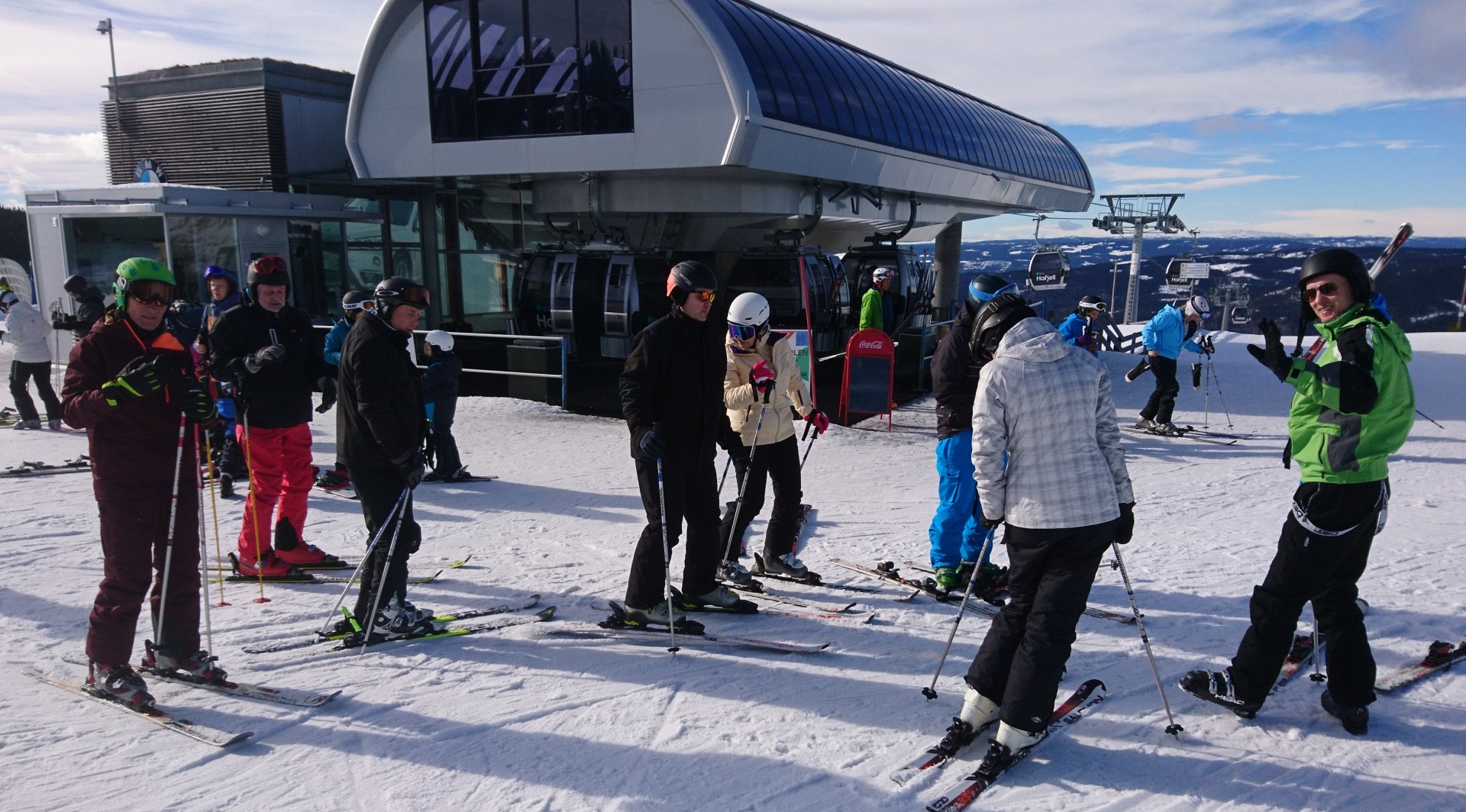 The whole group at the beginning of the day
SATURDAY
Saturday Mini winter games was arranged. The teams consisted of two persons a women and a man. Nine teams had applied to start, out of which 4 teams where Lituanion, 3 teams where Norwegian and 2 teams where international,with one Lituanion and one Norwegian. Disciplines to compete in where:

1 Speedsledge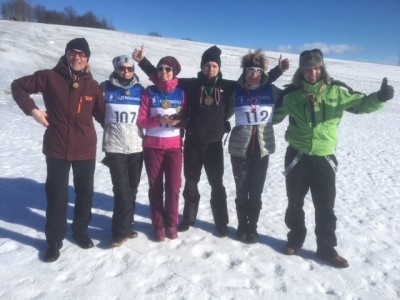 2 Sparksprint
3 Sparkshooting
All competitions had three semifinales and one final.
To the right you can see the lucky winners of gold, silver and bronse in the speedsledge competition. All teams are Lituanion
Sparksprint are, as you can see with an equipment we Norwegians call a spark. Competition consisted of a 50 metres sprint, then change places on the spark and back to the starting point.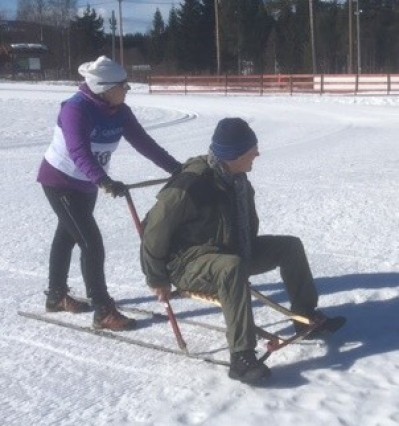 Last competition was spark shooting which was organised as a relay where each team member sparked a route, shot down a ballon and delivered the spark to the next team member. A lot of good shooting was performed.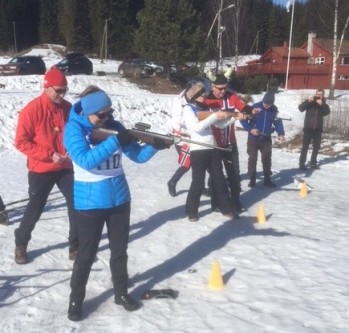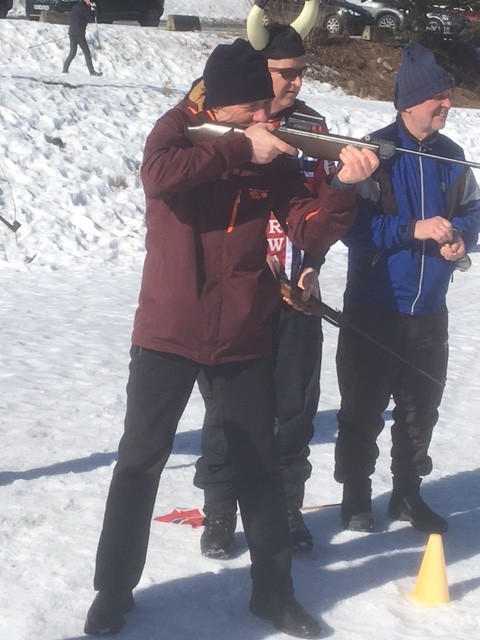 Below you can see the goold silver and bronze medal winners of the sparkshooting competition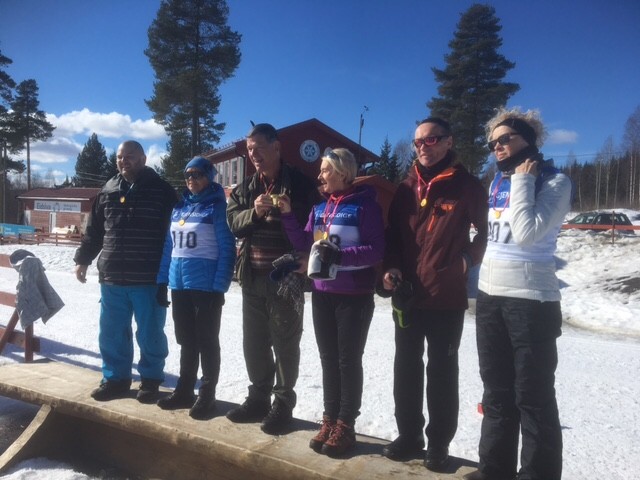 And of course there is no winter games without an audience. Below you can see the wave in practice.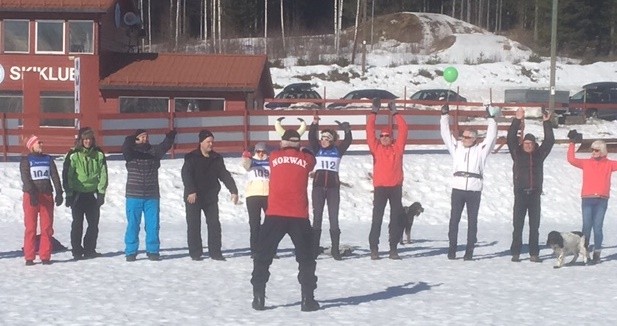 All participants and supporters gathered after the competitions to celebrate a good day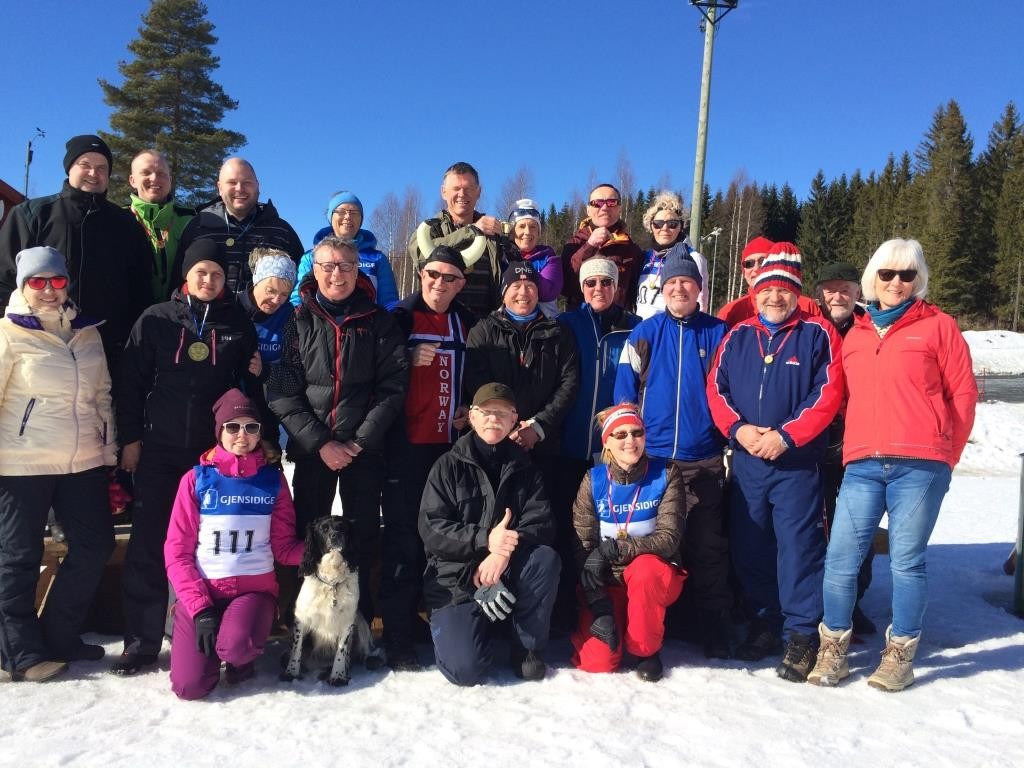 The day ended with Gjøvik Rotary's traditional "TORSKEAFTEN" . During the evening the overall winner of the three competitions where celebrated . In addition three new members of the Gjøvik Rotary was welcomed. And last but not least Ragnar Enger was given the Paul Harris award.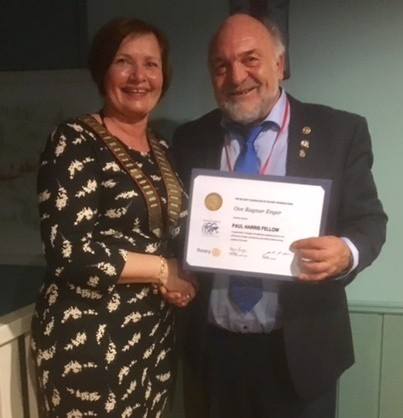 New year greetings from gjøvik rotary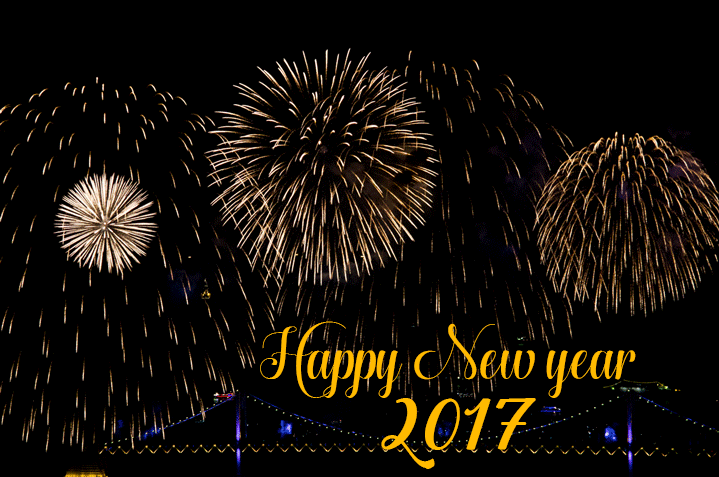 Christmas and new year greetings from anyksciaikk rotary
ANYKSCIAI VISIT 3 – 6 NOVEMBER 2016

The visit had three targets namely
to further strengthen the friendship and hospitality between our two clubs,
to discuss existing and new common humanitarien projects
and to participate in an adventure together with our rotary friends.
Below a presentation of pictures telling the story of the visit
Thursday november 3.
Club meeting to discuss topics of common interest especially humanitarian projects. We were recieved by a strong group of members and hospitality from Anyksciai Rotary club


The recieving group lined up





















Presidents




FRIDAY NOVEMBER 4 VISIT TO JOKUBAVA FAMILY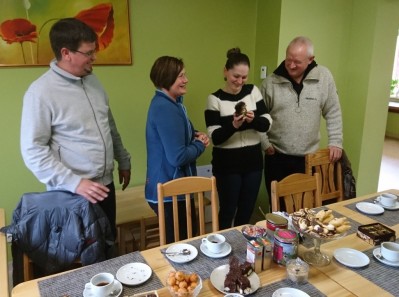 Tractor and equipment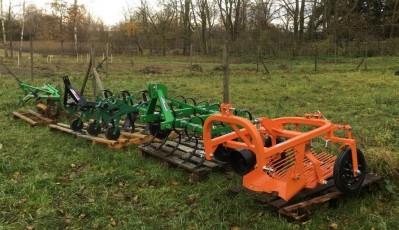 President gives small gift to Simone
First part of the day we meet the family Jokubava to hear about and see the results of our common project. Conclusion was that the family needs another season to fully utilise the equipment.

In the afternoon we trained shooting at the shooting fields of tha Zala family.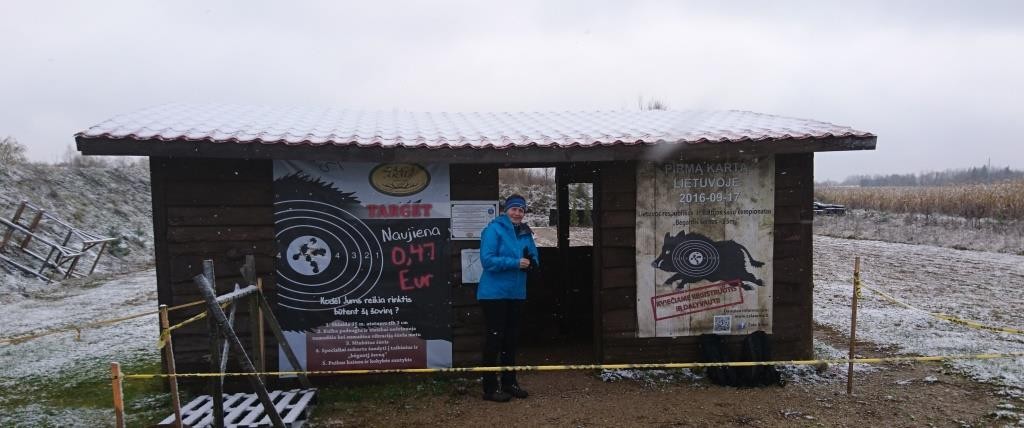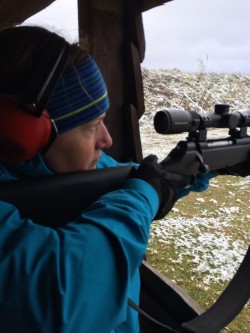 PRESIDENT BODIL PROVED TO BE A GOOD SHOOTER














iN THE EVENING WE WENT TO THE mONASTIR TRUSKONAI TO PREPARE FOR THE NATIONAL HUNTING DAY




WE WERE RECIEVED AND INCLUDED IN THE HUNTING TEAM BY PASTOR SAULUS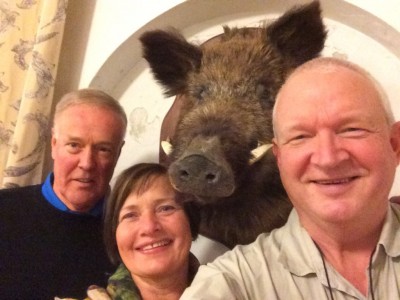 Bodil , Geir and Georg dreamt of meeting wild boar the next day














Saturday november 5 The national hunting day in Lithuania.


THE DAY STARTED WITH A CEREMONEY IN ST. HUBERTS CHURCH DEDICATED TO HUNTING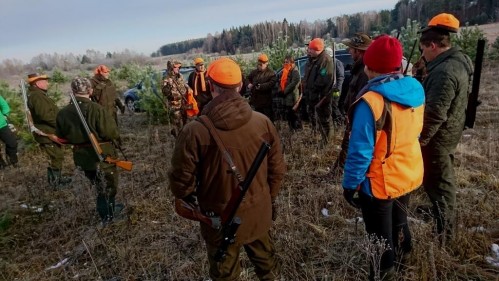 THE HUNTING TEAM IS INSTRUCTED AND POSITIONED FOR THE DRIVE HUNT






HUNTING FRIENDS FROM GJØVIK AND ANYKSCIAI ROTARY CLUBS






























AFTER HUNTING ALL HUNTERS GATHERED FOR THE CLOSING CEREMONY OF THE HUNT.
THE RESULT OF TODAYS HUNTING WAS PRESENTED












03.06.2016
Anyksciai reporting deal of tractor for which we have contributed as part of our project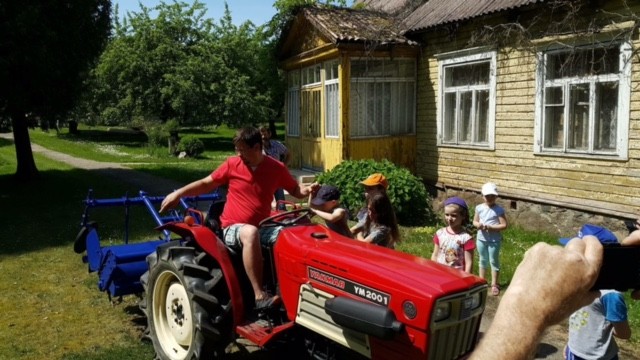 Picture of tractor childrens home location


ANYKSCIAI ROTARY CLUB VISIT GJØVIK ROTARYCLUB

In the beginning of May namely 6-8th May Anyksciai visited us with a group of 9 persons. The program were as follows:
Friday 06.05
1355 Fetching at Torp Airport with 17 seater minibuss
3 hours 12 min.drive to Gjøvik. Stop at Vigelandsparken
In Gjøvik directly to accomodation.
2000 Dinner at Ragnar's house
New and old friends will meet.
Saturday 07.05
1000 – 1130 Presentation and guided tour on University in Gjovik.
1130 – 1230 Presentation of company designing and producing sub sea equipment for oil wells.
1230 – 1400 Lunch break Eiktunet Vårnes huset
1400 - 1600 Guided tour through Gjøvik from waterfront to the olympic mountain icehockey hall
1600 - 1730 Home to accomodation for a break.
Gathering at Energy Huset for Rotary meeting and party
1745 – 1900 Rotary meeting ( se content)
1900 - ???? Evening party for the friendship clubs
Sunday 08.05
Departure for airport
Pictures from the visit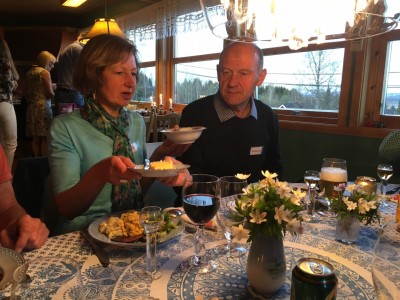 President Raimondes and Dalia on friday at Ragnar's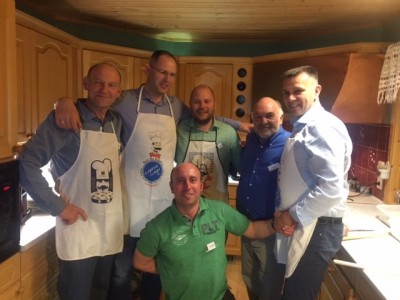 Lithuanian team ready for baking lompe with help from Ragnar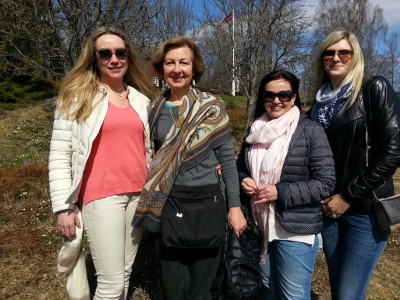 Visiting ladies Renata,Dalia,Victorija and Evelina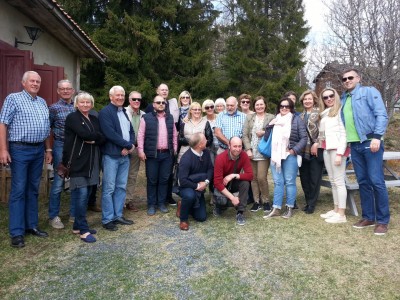 Guests and visitors at Eiktunet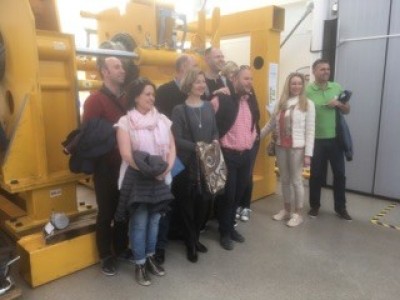 Visitors in front of sub sea equipment.
Pictures from anyksciai project presentation 07.05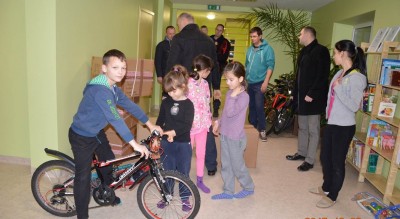 Christmas presents has arrived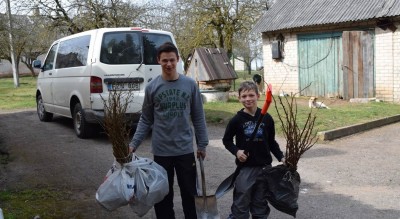 Fetching the raspberry plants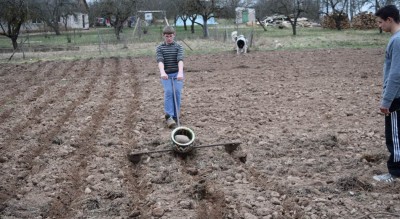 Prepare for planting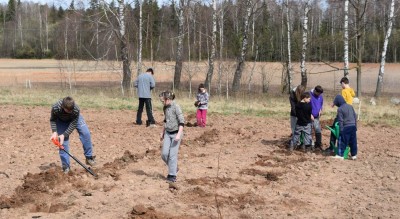 Planting the 200 raspberry plants
First meeting with friendship club
Gjøvik Rotary will visit Anyksciai Rotary club in late september. (24-27.09) Rotary participants from Gjøvik Rotary is Ole Solberg, Ragnar Enger, Peter Huuse, Bjørn Overn ang Georg Jenssen. They will accompanied by their spouses. We are looking forward to the visit.
Pictures from the visit.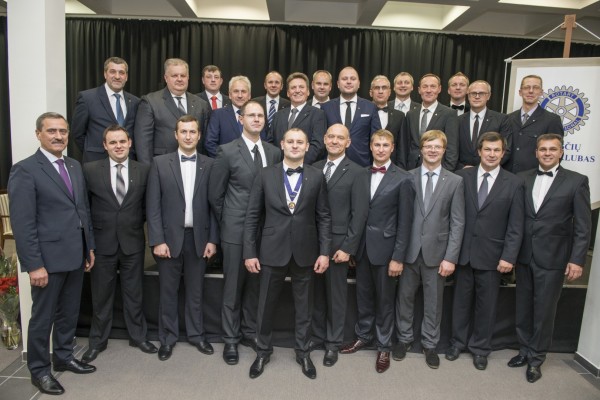 Members of Anyksciai
Rotary club
Trip in park in Villnius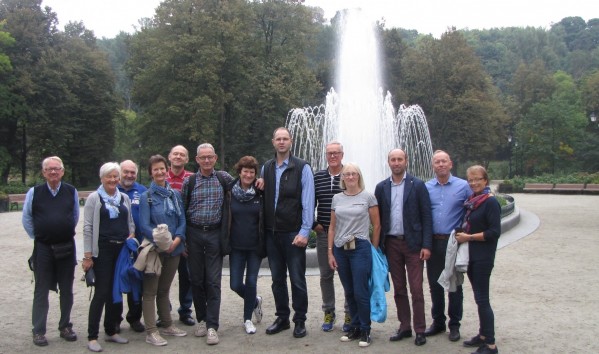 Visitors and children day care home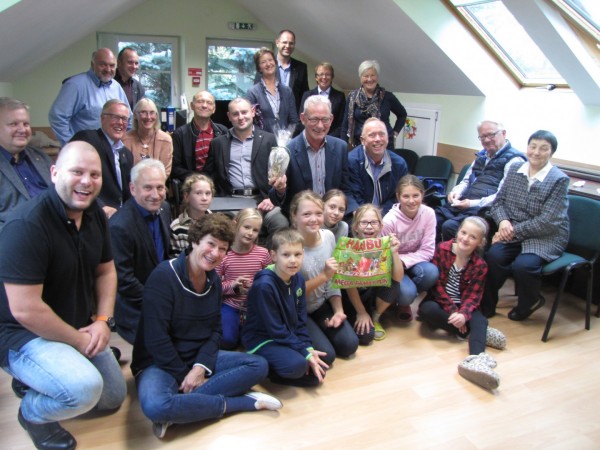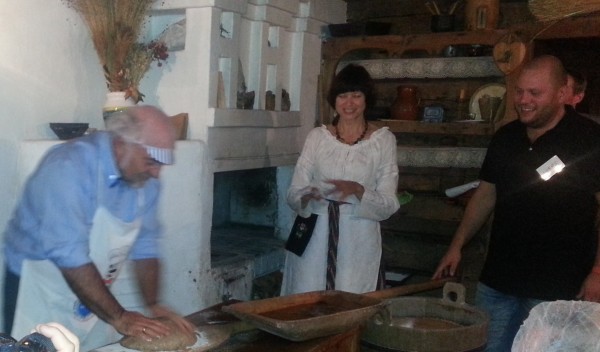 Baking bread was part of the evening program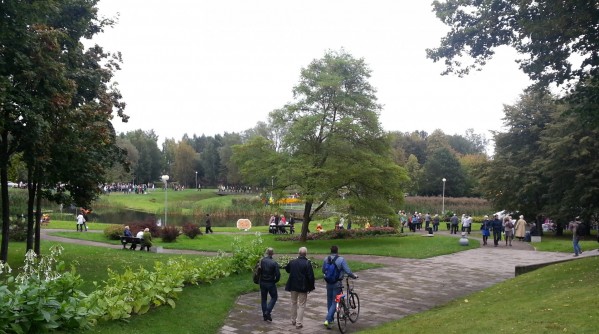 O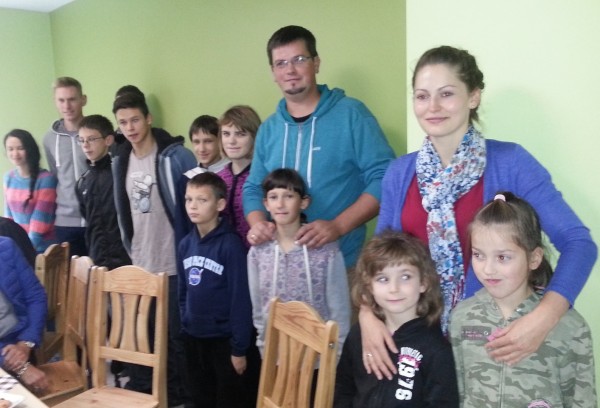 n our way to the Autum market
Visit at family with childrens care.
Simone and Ner
ius with their 11 children
Peter thanks and declare friendship over a bottle of Braastad